PLEASE NOTE: The option to fill out export papers will not be availible on your Pakke.dk account before the order has been placed.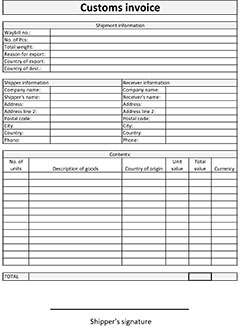 When shipping outside of the EU, a customs document has to accompany the shipment. You can fill in this document here at our website after ordering. As an alternative you can also upload it as this can be more convenient for companies.

The customs document has to be printed in 3 copies: One copy must be applied the shipment (for example the document can be applied to one package. The two additional copies you hand over to the chauffeur at pickup. In case you do not meet the requirements regarding this customs document, the order can be cancelled or you could be charged an additional bill.

In a few cases, extra charges may appear; this can happen at local customs in the country the parcel is shipped to or other local taxes/fees. These fees are not included in the price of the shipment, and to be aware of this is solely the responsibility of the customer or recipient.
Do I need to fill in a customs document when sending Christmas gifts, items of complaint, samples or other items without value?
- Yes, no matter the contents of your shipment, when you ship outside of the EU you have to send the customs document with it.
Is the value on the document crucial?
-There has to be a value marked on the document so that the local customs can clear your shipment. This is the case of any items including Christmas gifts, items of complaint, samples etc.
Why do I have to pay customs duty of the contents of my shipment?
- This is probably due to the fact that the buyer of the items does not hold customs credit. Therefore the buyer will be charged duty of the items they import. If the buyer does not pay this bill, the shipment will be returned to sender.